Are you looking for a complete training course where you can learn how to create an income on line? Wealthy Affiliate has everything you need and without all the up sells. One annual payment gives you access to all the training, step by step so you can work at your own pace. You also get locked into that price each year that you stay if you pay annually.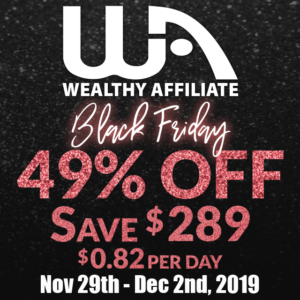 This offer ends on Monday December 2nd.
The Black Friday Price is $299 per year! And you stay locked in at that price every year as long as you remain a member.
Regular pricing is listed below if you would purchase any other time of the year.
The longer the membership term you purchase at once, the greater the discount.
Monthly – $49 per month
6 Month – $234 (which works out to $39 per month)
and Yearly is $359 (which works out to be $29.92 per month)
Here are a few things that are included in your membership:
Live chat 24/7
 Hosting for up to 50 websites
 SSI Certificate
 Unlimited e-mail
 Live Weekly training
Support from experts and a very helpful community
Wealthy Affiliate is the platform I started on when I began my online journey. The step by step training was very helpful and I worked at my own pace. Questions are answered quickly since there is a live chat available, or one can type their question into the search box and retrieve a number of responses from other knowledgeable members-or we can ask our questions as a post and also receive a response, almost instantly so you do not have to wait for days for support to answer you. This feature alone saved me much frustration!
You can sign up for free and test drive it for 1 week (no credit card required) but please note that the Black Friday deal ends on Monday, December 2nd and is a nice savings should you decide that this is the course you want to take.
The 7 day Free Starter Membership offers:
Access to level 1 Certification Course
Access to Level 1 Affiliate Bootcamp
7 Days of Community Access
Wealthy Affiliate Site Builder
Two Free Websites
Read my Wealthy Affiliate Review Here
Wishing you much success in your business venture,
Deborah